When it comes to working out, some fitness enthusiasts out there are purists, insisting that technology doesn't need to intrude into their exercise regimen. For everybody else, the Fitbit Force is here to revolutionize the way you think about staying in shape.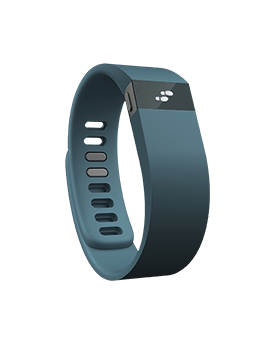 What Is It?
The Fitbit Force is the latest wearable fitness wristband from Fitbit. They have improved upon their already stellar design sensibilities as seen in previous models such as the Fitbit One and Fitbit Flex.
The Force makes things simpler, with a redesigned band that's as comfortable to wear as it is unobtrusive. No matter where your day takes you, or what activities you'll be taking part in, the Fitbit Force is comfortable enough to wear all day (and night). It's also water resistant, which means peace of mind.
What Does It Do?
Not all wearable fitness technology is created equal. The Fitbit Force is the most capable workout companion that you'll ever use. As you travel, it keeps track of your steps taken, distance traveled, and the amount of time you've been active. It's all thanks to a cutting-edge altimeter and accelerometer, which keeps track of your movement effortlessly and accurately.
One of the barriers most commonly cited by people who are struggling to get in shape is the lack of motivation. This is one of the primary advantages of Fitbit Force: by giving you access to clear, intuitive visual depictions of your fitness activities, you'll be better equipped than ever to set goals for yourself. There's nothing better than exceeding your own expectations… and then reaching even higher.
It Goes to Work When You Go to Sleep
Fitbit Force doesn't take a break when you do. When bedtime comes around, you can leave Fitbit Force on your wrist. In addition to tracking your workouts, it can also serve as a sleep monitor. If you've been curious about the quality of your sleep, Fitbit Force can help you interpret your sleep patterns.
During the night, Fitbit Force will keep track of how long you were asleep and how often you woke up. In the morning, it will wake you with a vibrating, silent alarm so that you can rise without disturbing your partner.
You'll be assigned a sleep score and have access to online charts that will help you interpret and improve your quality of sleep.
Device Compatibility
Retrieving your fitness and sleep data from Fitbit Force has never been easier. Thanks to wireless syncing technology powered by Bluetooth 4.0, the wristband is able to push your data to all of your favorite devices, including your laptop, iPhone, and select Android smartphones. There aren't any cables to worry about; it's all wireless and exceptionally fast.
Once your data is transferred, you'll have access to a suite of great online tools. Your personal dashboard will give you an up-to-the-minute snapshot of your fitness data as well as your progress toward your goals. As you make progress toward your goals, you'll be awarded with Fitbit badges to commemorate your important milestones. It's just what you need to keep yourself motivated.
If you've been thinking about giving wearable fitness technology a try, now is the perfect time to dive in with Fitbit Force.
John Chupon is an author and recognized authority on wristbands, currently working for WristbandsCity.com.